Cal Coast Credit Union Air Theatre Seating Chart
The Cal Coast Credit Union Air Theater offers 4,600 seats across three seating levels as depicted in the seating chart below. Seating is bleacher-style seating with plenty of legroom for comfort and relaxation.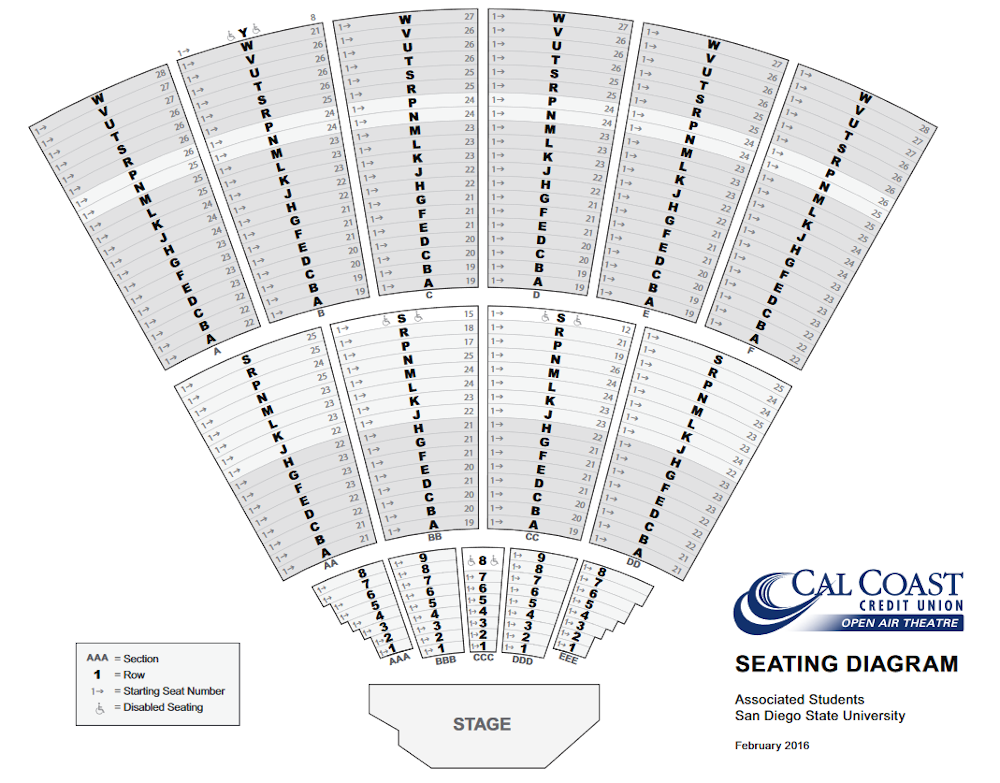 Cal Coast Credit Union Open Air Theatre is an outdoor amphitheatre with no roof covering. You should assess the weather before you go, and wear the most appropriate clothing. CCCUOAT operates a rain or shine policy, so you'll need protection against both. Umbrellas aren't allowed, and there's no storage facility for them. At full capacity, the theatre seats 4,600, on bleacher-style plastic seats.
Cal Coast Credit Union Open Air Theatre is designed in the traditional fan shape, with three levels of seating. Nearest to the stage is the Orchestra pit level, with two terraces rising up behind. These are sometimes called the Terrace level and the Garden Promenade. There is some general admission standing room at the top of the amphitheatre, at the back of the highest terrace. Tickets for that section are only available for selected shows.
Please be aware that seating plans may vary for different events. Always check the seating layout when choosing tickets for your desired concert.
Accessible Seating
Accessible seating is dotted around on every level of Cal Coast Credit Union Open Air Theatre. Some seats are in Row 8 of Section CCC, some in Row S of Sections BB and CC, and some in Row Y of Section B. One companion ticket is allocated to each ADA ticket, although up to three companion seats may be purchased on the day of the concert if available.
Seats are available that accommodate vision or hearing-impaired patrons. These will need to be reserved not less than 2 weeks before the event. Contact the CCCUOAT direct for further assistance with this.
Wheelchair and accessible seating is available at all levels of the venue, at the areas indicated in the attached photograph.
Seating Options
Orchestra Level Tickets
Cal Coast Credit Union Open Air Theatre Orchestra level is divided into five sections, labeled from right to left, AAA through EEE. Each section has eight numbered rows, starting from 1 at the front. Seats in each section are also numbered from right to left, starting at 1. This section is the closest to the stage. It slopes fairly gently, so people in rear seats can still get an excellent view.
Terrace Level Seating
Terrace level seats at Cal Coast Credit Union Open Air Theatre are more steeply raked, so everyone gets a good view. It's divided into four sections labeled from right to left, AA through DD. 16 rows ascend from A to S, and seats in each section are numbered right to left, starting at 10.
Garden Promenade Level Seats
This level is divided into six sections, labeled right to left A through F. Each section has 20 rows, ascending from A to W. Section B also has a Row Y, for accessible seats. Seats in each section are also numbered right to left, starting from 10. Some standing room may be offered behind Row W, but not always.
Cal Coast Credit Union Open Air Theatre Best Seats
People who've been here all agree that there's not a bad seat in the house. That's because of its small size and traditional design, which provides the best acoustics for the layout. Every seat has a great view and excellent sound, though occasionally people facing head-on to the lighting arrays have been dazzled!
The seats in the Orchestra and Terrace levels are slightly wider than those in the Garden Promenade. Front and center seats are optimally positioned and offer the most comfort. The only downside is perhaps that the concessions are on the top concourse, which means a lot of steps up and down. Since the amphitheatre is so steeply raked, some perceive the steps as scary!
NOTE: The seating arrangement can be subject to change depending on the type of event. Always check the seating chart for your individual event which can be viewed when selecting your ticket.
Reserve your seats now by purchasing your tickets using the link below. View the Cal Coast Credit Union Air Theatre schedule to purchase tickets for all upcoming events.
To read more about the ticket and refund policies, please visit the ticket information page.