Cal Coast Credit Union Open Air Theatre | San Diego, California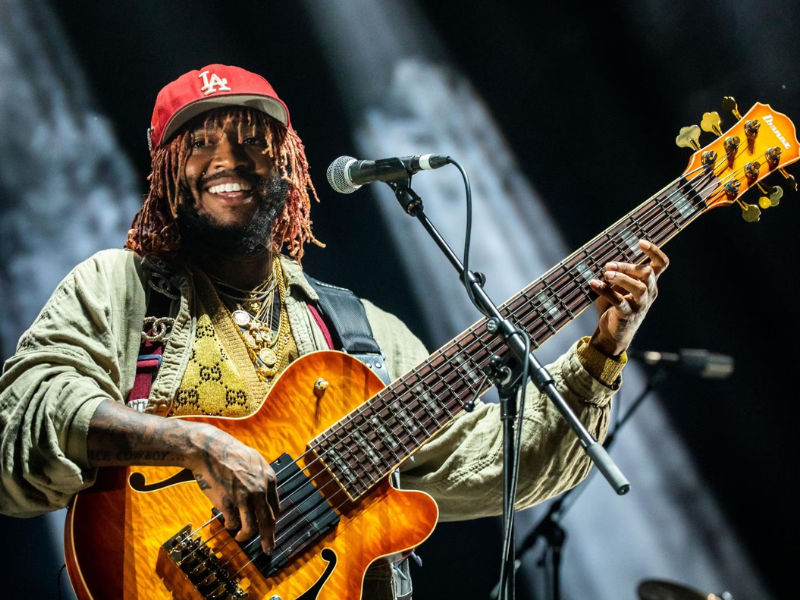 Discover a sound that bends and transcends genres on October 7th as Thundercat stops by the Cal Coast Credit Union Open Air Theatre for his In Yo Girl's City Tour! Stephen Bruner (aka Thundercat ) will be crossing the borders of North and Latin America to promote his recent collaborative single, "No More Lies." The bassist/singer/songwriter is widely recognized for his Grammy Award-winning album, It Is What It Is, which features electric hits such as "Dragonball Durag" and "Innerstellar Love." With his virtuosic handle of bass, fusion, and funk, Bruner will tantalize you in a myriad of ways no other artist can. The sloped steps of the venue offer a great view of the stage, while its impeccable acoustics ensure the best listening experience in the open air of the SDSU campus. Drop what you're doing and book your seats now to catch Thundercat's performance LIVE!
Watch a visionary of modern music make some waves as Thundercat ascends to the Cal Coast Credit Union Open Air Theatre on Saturday, 7th of October! Drag your friends along and enjoy a night of electric funk, R&B, and ridiculous bass riffs.
"With his eccentric blend of avant-garde jazz, RnB, and groove, Thundercat lit up the audience with a live performance that pushed generic boundaries and expectations… His dextrous fingerwork on the bass was nothing short of stunning, charming the crowd with intricate meanderings and lightning-fast improvisations."
On fire from touring with the legendary Red Hot Chili Peppers, Stephen Bruner (aka Thundercat) redirects the flames to his own headlined In Yo Girl's City Tour, covering both North and South America. The two-time Grammy Award-winner will be promoting a cluster of new material including "No More Lies," a collaborative single with Tame Impala.
Declared by RHCP's Flea as "the best bass player on the planet," Bruner exerts complete mastery over the instrument with unrivaled dexterity. The bassist-turned-singer/songwriter plays genre-redefining tunes that fuse his bass expertise with elements of jazz, R&B, and electronica.
Listeners will immediately recognize such sounds from his critically acclaimed album, It Is What It Is, which includes bops like "How Sway," "Innerstellar Love," and "Dragonball Durag." In this sensational event, audiences should expect nothing from this modern maestro but the most innovative and awe-inspiring feats of musical persuasion!
Here's one of Bruner's earlier setlists this year for a possible sneak peek of his upcoming concert:
Set 1
Lost in Space / Great Scott / 22-26
Innerstellar Love
How Sway
Overseas
Dragonball Durag
Tron Song
A Fan's Mail (Tron Song Suite II)
Black Gold
Heartbreaks + Setbacks
Friend Zone
Lone Wolf and Cub
Existential Dread
Funny Thing
Them Changes
Encore
It Is What It Is
No More Lies
The steeply pitched amphitheater hosting the event allows for great angles of the stage regardless of seat location. And with its impeccably balanced acoustics, audiences can enjoy the purest form of Bruner's bass-loaded compositions.
Buy your tickets now and enjoy an exhilarating LIVE performance by Thundercat at the Cal Coast Credit Union Open Air Theatre on Saturday, October 7th, 2023. Don't be late; the show starts at night at 8!