Cal Coast Credit Union Open Air Theatre | San Diego, California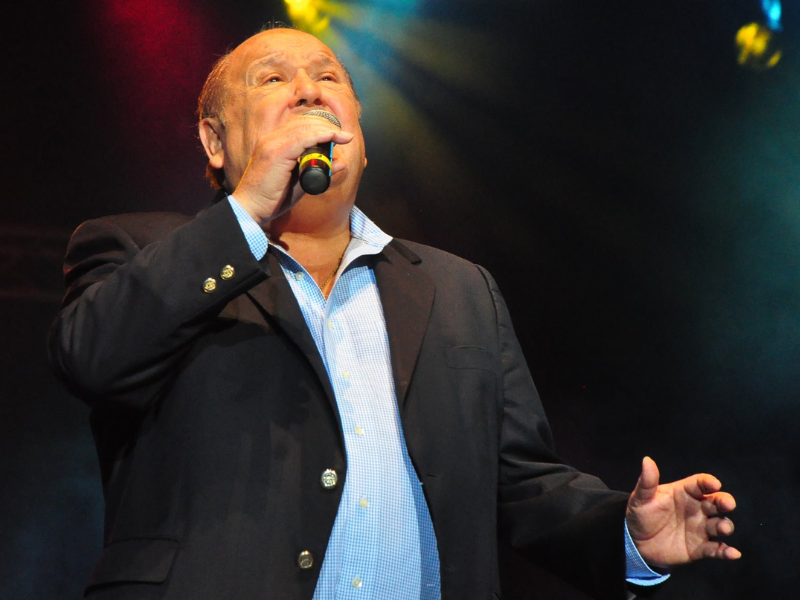 After a wonderful decades-spanning career, Leo Dan visits the Cal Coast Credit Union Open Air Theatre to say goodbye to his fans on October 15. The Latin music megastar's farewell tour has only four shows left this year, with a concert scheduled at the San Diego State University in California. The venue, an outdoor amphitheater, promises a once-in-a-lifetime experience through excellent acoustics, stage, and sight lines.Lend your ears to Leo Dan's soothingly mellow voice arranged onto his iconic backdrop of mariachi music. From the original crowd-pleaser "Celia" to worldwide hits such as "Fanny" and "Estelita," you, your friends, tíos, tías, abuelos, and abuelas will enjoy the Argentine maestro's storied discography in one last harmonic hurrah! Tickets are out - book yours now to see Leo Dan LIVE with special guests Ángela Carrasco, King Clave, Grupo Yndio, and Los Pasteles Verdes!
Experience the living singing legend of Leo Dan LIVE in his bittersweet farewell tour on October 15th at the Cal Coast Credit Union Open Air Theatre.
"The concert was awesome. We went to see Leo Dan, so getting to see the other performers was just a bonus… we had no idea it was his goodbye tour! What an incredible singer, performer, and what a career… Viva Leo Dan!"
All things bright and beautiful come to an end, but Leo Dan is nothing but grateful! Three years after his last US tour, the 81-year-old singer-composer returns to say goodbye to his beloved fans. Featuring opening acts from Ángela Carrasco, King Clave, Grupo Yndio, and Los Pasteles Verdes, only four shows remain this 2023, with a date in San Diego, California.
Ángela Carrasco is a Dominican artist best known for her Billboard chart-topping single "Boca Rosa" and Jesus Christ Superstar-featured "No se como amarle." King Clave, the 80s Argentine sensation, came to prominence with his first international album, which includes "Mi corazón lloro" and "Usted me dejo llorando." Grupo Yndio, meanwhile, is a Mexican band famous for its Grupero covers of English pop songs, including "Herida de amor" from Nazareth's "Love Hurts." And finally, Los Pasteles Verdes is a 70s Latin pop group whose hits such as "Angelitos Negros" and "Hipocresia" defined the genre with widespread success.
The Cal Coast Credit Union Open Air Theatre is honored to host the event, offering crisp acoustics and clear sightlines to an outdoor stage for this spectacular concert adieu.
Leo Dan, or Leopoldo Dante Tévez, is one of the primary forces behind the New Wave of Latin American music from the 60s to the 70s. A dulcet voice backdropped by lively mariachi motifs conquered airwaves during the time. Eventually, what began as a regional craze–"Celia," "Estelita," "Santiago querido," etc.–catapulted the star into global fame.
Twenty albums and a Lifetime Achievement Award later, "Te he prometido," one of Dan's hits, was showcased in Alfonso Cuarón's three-time Academy Award-winning film, Roma. Leo Dan is keeping everything a surprise, but here's an earlier setlist from his last US tour for a possible glimpse of his upcoming show.
Te he prometido
El radio está tocando tu canción
Que Dios te aleje de mí
Esa pared
Jesús es mi pastor
Toquen mariachis canten
La niña está triste
Estelita
Fanny
Pero Raquel
Como te extraño mi amor
Sé que te amaré
Como poder saber si te amo
Celia
Por un caminito
Siempre estoy pensando en ella
Pídeme la luna
Mary
Y gritare tu nombre
Book your seats now to see one of Leo Dan's final LIVE performances at the Cal Coast Credit Union Open Air Theatre on Sunday, October 15th, 2023.