Cal Coast Credit Union Open Air Theatre | San Diego, California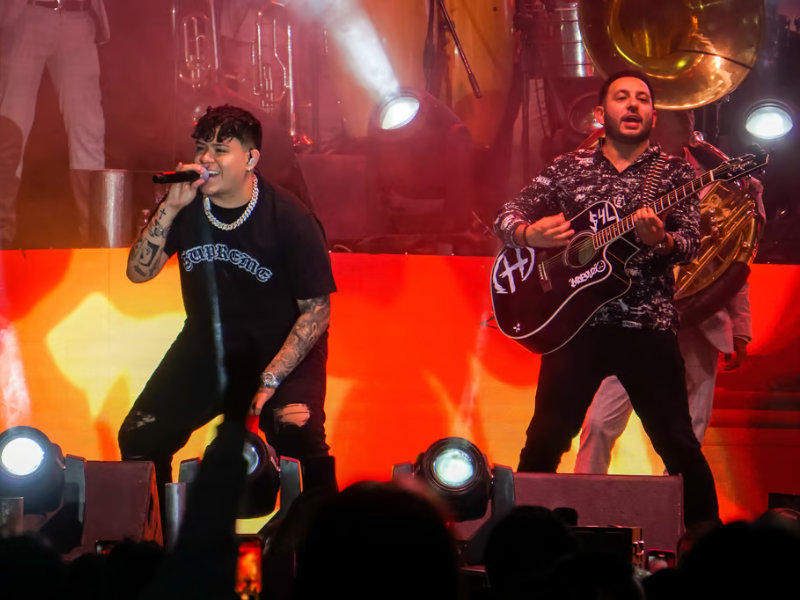 Corridos Tumbados is the hot new genre coming out of Mexico, and sitting in the king's chair is Junior H. He has achieved mass appeal, and with a new trek called "The Sad Boyz" Tour, he is exactly what the fans have been waiting for all year. The tour, starting on August 11 in Los Angeles, CA, will pass through several major cities, including Miami, FL, Las Vegas, NV, Brooklyn, NY, and so many more, before wrapping up for one helluva send off in Hidalgo, TX. Somewhere in the middle, he is coming to the Cal Coast Credit Union Air Theatre on Friday, October 6, 2023, and it's gonna be off the chain. Y'all need to be there to check his ish out, and lucky for you, we've got passes for sale right here and now, so get your fingers busy by clicking or tapping the "GET TICKETS" button before it sells out.
If you'd to name tres of the most pop corridos tumbados, you would come up with Peso Pluma, Natanael Cano, and, of course, the man of the moment, Junior H. Not only that, they are the most streamed artists in the genre too!!! Arguably the best of the bunch has to be Junior H, with over 27 mill in monthly listens on Spotify alone and his remarkable "Sad Boy" anthems.
Early on in his career, he worked as a cook at Wendy's ...but fate had other ideas for him. While workin' and studyin', he also learned to play different instruments like the accordion and guitar, but leaned more toward the guitar and mic. Out of fear of being mocked, he recorded songs in secret and uploaded them to YouTube under the name Junior H, so nobody would know it was him. It was a genius move 'cause, only one month later, his single "No Eh Cambiado" had achieved over 2 mill in views, and he was like YUP!!!, music is ma true callin'.
Junior H dropped his debut album in Feb 2019, called "Mi Vida En Un Cigarro 1" and that same year he signed with Rancho Humilde. In 2020, workin' like a steam engine, he released his second attempt, Atrapado en un Seuno," which rocketed him to celeb status with his singles from the recordin' achieving over a hundred mill views across different platforms. Then in 2021, he released "$ad Boyz for Life," which hit the #1 spot on Apple's Latin chart within JUST 24 HOURS!!!, and followed it up in 2022 with "Mi Vida En Un Cigarro 2."
The dude is sitting pretty, being in high demand right now, having appeared on Rauw Alejandro's latest album "Playa Saturno" earlier this year as well as working with Peso Pluma's album, "Genesis." He has also featured on the songs "Luna" and Lady Gaga," both of which charted on the Billboard Hot 100 chart.
This guy is super stylish with his hot flow, thirlltastic stage presence, and trend setting fashion sense. As a matter of fact, to announce his new tour, he flew from Los Angeles to Anaheim by helicopter just for that.
From restaurant worker to headlining tours, Junior H is the artist everyone loves to love, and when he comes through, people go wild with anticipation, so don't miss out on any of this action, make sure you grab your tickets right here and now.