Cal Coast Credit Union Open Air Theatre | San Diego, California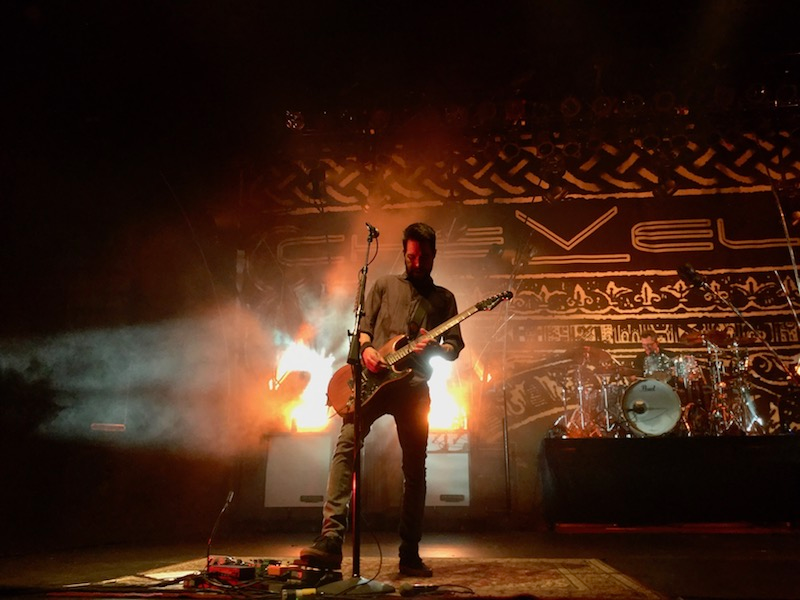 Revel in thunderous rock and roll music as Chevelle and Three Days Grace blow the roof off the Cal Coast Credit Union Open Air Theatre on October 2, with special guest Loathe! In promotion of their latest albums, NIRATIAS and Explosions, the two multi-platinum bands are co-headlining a nationwide tour, visiting 23 cities this coming fall. Brace yourself for a high-octane night as both chart-topping groups clash head-to-head in a battle of chord-burning riffs and commanding vocals. Chevelle and Three Days Grace intend to offer no less than a complete trek through their combined forays in the history of hard rock, from well-known radio hit singles to their most recent musical undertakings. The concert will be held at the SDSU's outdoor theater, where crowds can enjoy excellent sightlines and superbly tuned acoustics. Join us to witness Chevelle & Three Days Grace's sonic showdown. Don't wait - get your tickets today!
Two of today's most earth-shaking bands join forces to tear the Cal Coast Credit Union Open Air Theatre apart on the 2nd of October! Watch Chevelle, Three Days Grace, and special guest Loathe LIVE in this concert event bursting with adrenaline and hard-rock riffs.
This fall, Chevelle and Three Days Grace co-headline a 23-city nationwide tour to promote their latest albums NIRATIAS and Explosions. On top of these albums' tracks, fans can also expect performances dedicated to some of their chart-topping radio hits, though specifics are still under covers.
Ever since their formation, Chevelle and Three Days Grace seemed to shape the hard-rock landscape in tandem. This 2023, it's made official. Cheer and jump in unison to welcome this once-in-a-bluemoon collaboration between multi-platinum bands! Sky-piercing vocals. Chord-burning riffs. Lyrics of loss and redemption. Each fan will find something to bang their heads to, whether it's Chevelle's complex atmospheric arrangements or Three Days Grace's passionate stadium-rock anthems.
Our first headliner, Chevelle, is a two-time GMA Dove Award winner with over 6 million albums sold worldwide, many chart-topping singles, and certified gold & platinum records. On the other hand, Three Days Grace boasts dozens of award wins (including one from the Billboard Music Awards), several multi-platinum records, and 17 Billboard number-one songs.
Their opening act, Loathe, is an English nu-metal band that has recently been making waves and is best known for their 2020 album I Let It In and It Took Everything.
For a possible preview of the upcoming setlist, you can refer to the track listings below:
NIRATIAS:
Verruckt (instrumental)
So Long, Mother Earth
Mars Simula
Sleep the Deep (instrumental)
Self Destructor
Piistol Star (Gravity Heals)
VVurmhole (instrumental)
Peach
Test Test…Enough
Endlessly
Remember When
Ghost and Razor
Lost in Digital Woods
EXPLOSIONS:
So Called Life
I Am the Weapon
Neurotic
Lifetime
A Scar Is Born
Souvenirs
No Tomorrow
Redemption
Champion
Chain of Abuse
Someone to Talk To
Explosions
As the assigned venue, the steeply inclined arena at the San Diego State University offers a fantastic view of the action, quality seats, and acoustics fine-tuned to perfection.
Get your tickets now and see Chevelle & Three Days Grace LIVE at the Cal Coast Credit Union Open Air Theatre on Monday, 2nd of October, 2023. Make sure you're there by 7 pm. We'll see you soon!